…to Pinelands Folk Music & Basketry Center, one of the best music stores in Burlington County, NJ!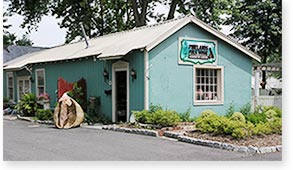 Come visit our shop here in Mill Race Village, at 31 White St. When you visit, you will discover an amazing array of folk instruments, handcrafted baskets and candles, as well as space for classes and workshops.
What's new in the store?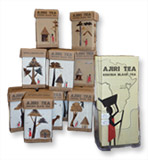 Come in and see our new line of Ajiri Kenyan Black Tea — available in both teabags and as loose tea. High in antioxidants, Ajira Tea is rich in body, with a fresh, bold and distinctive flavor. Ajiri Tea is produced at the Rainforest Alliance Certified ™ Nyansiongo Tea Factory, a cooperative of independent. Kenyan farmers. The distinctive packaging is created by women in the Kisii region of Kenya, who handcraft each label using dried banana bark. 100% of the Ajiri Tea Company's net profits after taxes are returned to the Kisii community.
Don't forget the musicians on your holiday gift list. We carry a fine selection of Appalachian and hammered dulcimers, mandolins, flutes and other instruments, all carefully crafted here in the United States.
Stop and see our new line of hammered dulcimers, finely crafted instruments made by Songbird Dulcimers. Chris Foss, who is the owner and maker, has been building instruments full time for over 20 years, and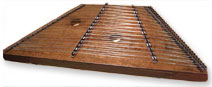 takes pride in creating instruments that are intended to last a lifetime. If you are considering a new or replacment hammered dulcimer, please take a few minutes to explore their website and learn about their design philosophy. While you are there, watch the videos of each model being played. Videos of Songbird dulcimers in use are also available on YouTube.
What else will you find here at Pinelands?
We offer a variety of music CDs and folk instruments, ranging from both Appalachian and hammered dulcimers through Native American flutes. We keep adding new instruments, CDs and music products (andsome others, just because they are fun!) so stop by and check. Bring your instrument and maybe we can play a tune or two. Don't be shy about it — we are always looking for musicians of all levels to play with. After all, instruments work a lot better when they are dusted off from time to time! During the summer months you are welcome to come and play during (or just come and listen to) one of our streetlight jams here in Mill Race Village.
At our new location, we have room to showcase Mary's award-winning basketry, as well. When you stop in, you are likely to find her weaving one of her traditional Lenape or contemporary baskets. She has won numerous awards for her original basket designs, and her antler baskets are considered works of art. Mary is always willing to share her knowledge, and teaches students of all levels in basketry classes and workshops.
A new addition to Pinelands Folk Music & Basketry is our very special candles, including the full line of Isle of Candles soy candles and a variety of soothing, air-cleansing salt candles. Information on all of our regular and seasonal candles is available here on our site — but nothing beats the scent of the real thing. So stop in anytime and find just the right candle scent for yourself or for gifts.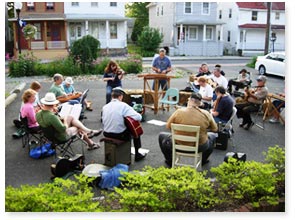 We offer classes and workshops, too!
Rich teaches several courses, including both beginning and intermediate hammered dulcimer classes, plus music theory for the folk musician, and is available for group and private lessons as well. If you need to discuss and try out different instruments before making a purchase, Rich will have an area in the new shop for consultations on repairs and ordering new instruments. And Rich is available to perform at local and regional gatherings, and private parties. Check out our festivals and events section to see where he is playing next.
Mary teaches both beginner and specialty basketry classes on a regular basis. Please get in touch with her by email or phone (609-518-7600) and ask to be added to the mailing list so you will be notified when the new class schedules are available.
The Mill Race Village is a great place to browse and shop, with over a dozen different stores to choose from. A wonderful restaurant is less than a block from our shop and there is also a great pub nearby. At the Mill Race Village, we are working among other artisans, such as quilters, potters, weavers, jewelry makers and even a recording studio.
Stop in anytime to visit, share and learn.
Mary and Rich Carty