…to a world of music, creativity, craftmanship and fun! Pinelands Folk Music Center is where everyone who loves old time, Celtic, Gospel or folk music comes to relax, sing, make music and obtain musical necessities. Strings do have a habit of breaking from time to time!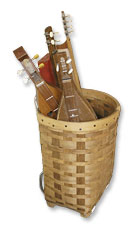 We always have a warm welcome for visitors and hope you will share a story or two. Because we know how difficult it can be to locate quality instruments, we proudly represent some of the best mountain and hammered dulcimer builders in the United States. Pinelands carries excellent lines of autoharps, and other acoustic folk instruments as well. And we always have time to help you decide which instrument is the right one for you. Our integrity is well-known in the southern NJ folk world, and you can trust us to guide and assist your purchase.
Acoustic instruments are available for purchase or special order — both new and gently loved instruments. We offer classes in mountain and hammered dulcimer and sponsor workshops and classes for autoharp and other instruments. Pinelands carries a large selection of CDs, cassette tapes, tuners, strings, music books and other publications, as well as instructional videos — and this is just the start of our extensive musical inventory.
We travel to festivals and craft shows all over the country, and usually find new musicians and music-related items to share with our customers and friends. But no matter how far we travel, we are anxious to return. We miss the close contact with everyone who stops in the music center, and our roots in this area are deep. Our families have been in the Mt. Holly area for generations and will continue here in the future.
Come for a visit anytime…
Mary and Rich Carty