Learn basketry in our cozy new basketry work area! Basketry is both a folk art and a relaxing, enjoyable hobby. Mary combines her love of basketry, teaching and sharing her Piney-Lenape heritage in all her classes, creating an enjoyable and memorable experience for each of her students.
Wednesdays, 7:00 - 9:00 pm
This class is for beginners and anyone just starting the Six Week Class (see below).


Thursdays, 7:00 - 9:00 pm
This will be a regular open weave session. This session is for those who have already taken the Six Week Class.


Six Week Class

You will make three distinct and different baskets in this six-week session: the Bread Basket, the Melon Basket and the Homestead Vegetable Basket. These are all beautiful and useful, and were specifically chosen as they cover all the basic skills required to become an accomplished basket maker.
These sessions are geared to beginner and intermediate levels, although Mary has two students who have been with her for twelve years!
Cost: The $60 fee covers the full six week session, plus cost of supplies. Sessions are renewable and other baskets will be taught as each student increases his or her skill level.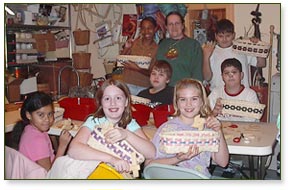 Single Session Class
Want to make a basket, but just can't find the time to take a six week class? Trying to fit a new skill into your busy schedule? Have company coming and tired of the same old lunch and the mall?Here is the answer — we will host a special class just for you!
Bring your friends and family and make baskets together! This is a really fun time. All supplies are included. We will break for lunch at the Robin's Nest Restaurant, which is a short block away. (Cost of lunch in not included in the class price.)
We require a minimum of three people, and have a maximum of ten. Actual prices vary due to supply cost and time, but range from $25 to $125. The following is an approximate guide:
| | | |
| --- | --- | --- |
| Bread Basket Class | $35.00 | 2 1/2 hours |
| Melon Basket Class | $45.00 | 3 hours |
| Homestead Vegetable Class | $55.00 | 4 hours |
Please email or call Mary to schedule your special class. This is very popular and guaranteed to create happy memories for you!