True bayberry candles are very hard to find today, but we have located a supplier of these wonderful aromatic North American originals.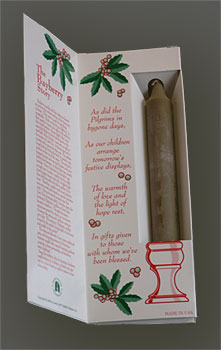 Bayberry candles and the traditions we associate with them began during colonial times. Colonists could not depend on regular shipments from the old world, and were always searching for local alternatives. One such happy find was the bayberry bush. When colonists boiled the bayberry fruit, they found that it left a fragrant wax on top of the water. Better still, the bayberry wax was harder and more brittle than beeswax, whey they were already using. And, although making bayberry candles was considerably more effort, the colonists discovered that they burned longer and cleaner, with a brighter light than other candles. Because they took so much effort to make, many families saved them for special occasions, such as Christmas and New Year's Eve.
Eventually, burning bayberry candles on Christmas Eve and New Year's Eve became tradition, and even inspired the saying, "Bayberry candles burned to the socket, bring health to the home and wealth to the pocket." Another lovely tradition was for sweethearts who were separated on Christmas to burn bayberry candles; legend said that the couple would be united by the candles' lovely scent.
We think you will agree that the scent of our true, natural bayberry candles is lovely throughout the year!