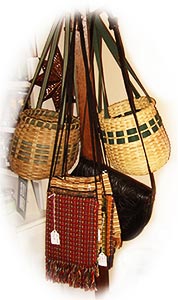 There are many beautiful and multi-purpose hand crafted baskets by Mary Carty available for purchase in the shop.
Mary is a well-known and respected artisan in southern New Jersey and her work is highly collectible. You will find her beautiful and highly functional baskets in all shapes and sizes, and will find they fit well in almost any location. Whether you are looking for a specific shape and size, or something unique, a traditional Leni Lenape basket or a contemporary piece, you will Mary's skill and workmanship exceptional.
Although Mary weaves both traditional and contemporary baskets, many of her antler baskets have gone beyond contemporary technique and are considered works of art. Always willing to share her knowledge, Mary teaches classes in making antler baskets, too.