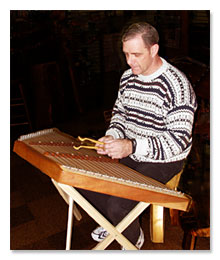 With over 20 years experience playing and teaching hammered dulcimer, Rich Carty is beginning a new career as "The Dulcimer Guy." A multi-talented musician who is comfortable playing in a variety of styles, Rich has a large repertoire from which to draw for his performances, including weddings and music for the Christmas season.
Rich's instrument — the hammered dulcimer — is an unforgettable solo instrument, but blends equally well as half of a duo, or as a special voice within a group.
In fact, you may already have seen and heard Rich as The Dulcimer Guy almost anywhere within southern New Jersey — perhaps performing as part of a regional fair, or during candlelight holiday shopping evenings in Haddonfield, Celtic music events, during weddings, at restaurants and coffee houses.
Rich would be a very special addition to your next family or group program. And he is available for bookings at coffee houses, restaurants and other venues.
As part of Rich's press kit, please click to download his:
• Press Sheet info (PDF file) — [coming soon]
• High resolution black & white photo (444 KB, 300 ppi photo); suitable for printing in flyers, brochures, etc.
• Medium resolution black & white photo (270 KB, 200 ppi .jpg photo); suitable for printing in newspapers
• Low resolution color photo (21 KB, 72 ppi .jpg photo); suitable for use on a website
Contact Rich by email or phone (609-518-7600) — or stop in at Pinelands Folk Music Center and discuss your event with him in person.